Chimney Sweeps West: Why You Should Hire A Handyman
As the summer season rolls around, everyone wants to redo their homes for the summer time. During the summer season, many people like to use their homes as a venue to host all sorts of events such as outdoor grilling, dinner parties, pool parties, graduation parties, and much more. There are many different ways to spruce up your home for the visitors, but they all take some time and effort. If you hire a handyman to help out with your decor projects, you will get a lot accomplished at a faster rate.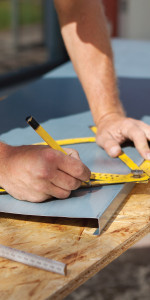 Ways To Spruce Up Your Home For Summer
Adding A Deck: A deck is a perfect spot for entertaining guests. For the summer months, you can add fun colored furniture along with a porch swing to make your deck feel more cozy and comfortable.
Building A Fence: If you have a fence around your home, it will provide a boundary for your children and pets to play within, but also it will give your house curb appeal and extra safety. You and your loved ones can enjoy the beautiful weather without the worry of an intruder sneaking in easily.
Painting Your House: Depending on your budget, you can paint both the interior or exterior of your house to give it that extra boost. During the summer months, rays of sunshine will shine throughout your entire house, so it is recommended that you use lighter colors. The lighter colors will give the home an illusion of it looking larger than what it really is, and it will give it a fresh and modern appearance.
Framing The House With Plants: Plants and greenery can give your home a fresh and clean look. You can plant roses, lilies or any other type of flowers in the front yard to create a natural atmosphere for your guests. Also, adding plants throughout the house will tie in the summery feel.
Benefits Of A Handyman
More Work Done In Less Time: Any repair in a home will take time, but a handyman can complete the task in less time than you can. While they are repairing the broken item, you can have free time to get done whatever else you need.
Expertise And Experience: A handyman will have more knowledge on repairing household items than you will. Most of the handymen have been in business for a long period of time, and they know exactly what they are doing. It will be the finest quality of work.
Right Types Of Tools: If something in your household broken and you attempt to fix it but use the wrong types of tools, then it can lead to more damage. Most likely, you did more damage and wasted money because you will probably never use that tool again. A handyman is prepared and already has his tools and he knows their exact purpose.
Saving Money: The idea of hiring a handyman sounds expensive, but often it is cheaper. An independent handyman will charge less than a specialized service provider. Depending on your relationship with the handyman, some are willing to negotiate and charge less than usual.
A Handyman Is The Best Option
Anytime you are in need of a repair, just call a handyman. A handyman will also take on projects such as fixing up a house for the summer by doing anything from hanging drapes to moving furniture to the patio. They are skilled and experienced in carpentry and will provide the best service possible at an affordable rate.