2018 Best Ways to Improve Your Home's Exterior
Whenever spring or summer comes around, the good weather encourages people to host events at their homes. It could be a simple family get-together or an extravagant party. It could be that you were deciding to put your house on the market. Whatever the event may be, your home needs to be ready for visitors, and it needs to be in tip-top shape. If you reside in or close to Knoxville, TN then check out Chimney Sweeps West. They offer various handyman services to get the curb appeal you are searching for. To get the exterior to look presentable, some of the options are adding a fresh coat of paint, adding a fence, or adding a deck.
Painting the Exterior
Whenever you paint the exterior of a house, it adds curb appeal. If you choose the right color scheme, then your house can appear bigger, and who doesn't want a bigger looking house? Painters say neutrals, whites, and creams can give the illusion of a larger house, and currently, those are the trending colors. It will also increase your house value by 2-5%. Home buyers search for houses that are ready to be moved into than doing all the extra repairs. It can also benefit you because painting the exterior is much cheaper than installing new vinyl siding or whatever the material may be. Painting can help your house to stand out because if you live in a subdivision where all the houses are identical then you will need something unique to make your home different. It also gives you the opportunity to be creative and customize your house to your liking.
Fencing the House
The houses that are fenced give off a polished appearance. Some fences have ornamental elements on them for decorative purposes. The quality of your fences can also increase your house value because fences are extremely useful. Fences are excellent for marking your property. If you live in a close subdivision, then there has to be a marking that indicates where your property begins and ends. Along with being a property divider, fences are great for safety purposes. If you have children, then fences serve as boundaries preventing the child from leaving the house. It is also a boundary for pets. Often, pets wonder out to the yard, and sometimes cross that boundary and get injured, but if you have a fence, then you do not have to worry about it because it acts as a security precaution.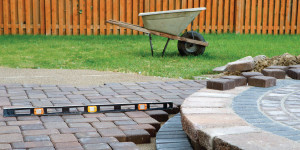 Adding A Deck
There are various types of decks all made from different materials. The two common ones are a pressure-treated wood and composite deck. If you want a custom- built, unique style then hire a well-reputable deck designer. Backyard decks are multifunctional; for example, you can have dinner with the whole family while grilling outdoors, you can have lounge chairs and sit out there while reading a book, or you can host social events while enjoying the company of your friends. A backyard deck can increase your property value drastically. If you have a well-built deck, then the average value it adds is about $9,000. Decks are perfect for privacy. If you do not like having a lot of attention, then having a deck in your yard can prevent have the public's attention.