Hire the Right Chimney Repair Contractors
Regular chimney repair and maintenance is an essential maintenance step to keep your home safe. Your fireplace keeps you warm in the winter, but without your chimney, there wouldn't be a way for the fire and harmful gases to stay in your fireplace only. With winter approaching, now is the perfect time to have your chimney inspected and repaired before you use it this winter. But how will you find a chimney repaired contractor in Knoxville, TN that will value your chimney safety as much as you do?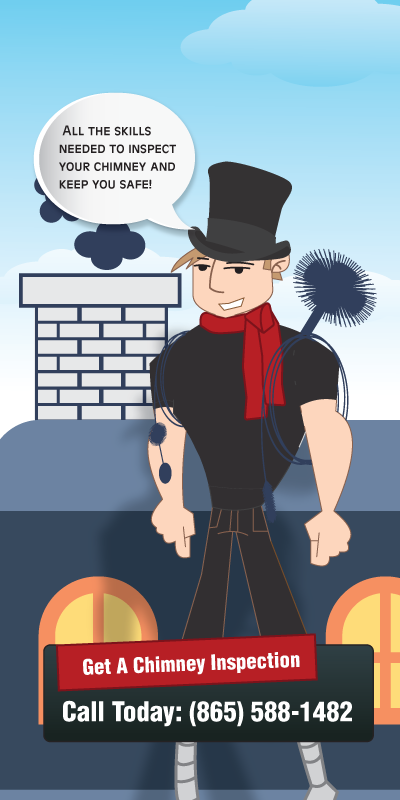 Choosing a Chimney Sweep
Despite the importance of chimney safety, there's a large amount of chimney sweeps out there who aren't capable of helping you keep your chimney safe. And unfortunately choosing the wrong chimney could end up costing you way more than just the money you wasted on a job poorly done. Even a small house fire could result in damage that costs way more than any chimney inspection ever would.
Doing a bit of research before hiring a Knoxville chimney sweep will help you choose a contractor you feel comfortable with, ensuring that you have the peace of mind you deserve after your annual chimney inspection.
Here are some helpful questions you could ask a chimney repair contractor before hiring them:
Certifications: While a certification isn't a guarantee of good service, it shows that you're working with a business that's willing to invest in reassuring you that the job will be done well. Good certifications for chimney sweeps include registration with the CSIA or another established non-profit entity.
Experience: When you hire a chimney repair contractor that's been in business for a few years, you're more likely to get what you pay for. Businesses that don't deliver a good service often disappear as fast as arrive on the scene.
Insurance: Ask any chimney repair contractor you're considering hiring whether they have any liability insurance to protect your home and belongings in case of an accident.
Even after asking all the most important questions, it's still important that you choose a business you feel comfortable with. Don't feel pressured into choosing a business if you don't feel like they truly care about your best interests. Chimney safety is about keeping your home and family safe, and a contractor that cares about delivering good service will understand that you want to hire someone who realizes the importance of chimney safety.
How Important Is Certifications?
As mentioned before, certification is a good sign of a professional chimney contractor. In many cases, this certification also indicates that the business is concerned with ongoing education to keep up with the latest news in fire safety and chimney repairs. However, there are also certified chimney sweeps who care more about getting certifications to make you feel a false sense of trust, even though they don't care about delivering good service to their customers. In this case, you might feel like you can rely on the certification, only to end up with a chimney that's no safer after the inspection than before.
Because of this reviews and references should still be a step in choosing the right business to work with. You want to work with a business that has a reputation of doing the job properly. One that gives friendly service and cares about making your home safer.
So while certifications are certainly an important step in choosing a chimney sweep, as a customer, you deserve to ask more questions and do more research before choosing a company to work with. Standards for getting certified with any specific entity aren't always high enough, making it too easy for chimney sweeps to obtain certifications. This is usually the case when the organization that offers a certification is more concerned about making it easy for businesses to get the certification rather than being concerned about your best interests as a homeowner.
The most well-known and trusted organization regulating chimney safety in the US is the Chimney Safety Institute of America. However, after certification, the CSIA has little control over how chimney contractors run their businesses, and so they encourage customers to report any gross misconduct from accredited business.
If the chimney sweep business is registered with the Better Business Bureau, the CSIA encourages customers to check if there are any unresolved complaints. Checking a business's online reviews and social media can also help you to see how the business responds to negative feedback in the case of disagreements.
Chimney Sweeps West: Chimney Repair Contractors in Knoxville
If you would like to hire a chimney professional before the winter is here, feel free to call Chimney Sweeps West. At Chimney Sweeps West, we understand that your safety comes first. Our passion is helping to keep you safe, and so meeting customers who care about chimney safety brings us joy, as we know these people understand the importance of regular chimney maintenance. This helps us build long-lasting, mutually beneficial business relationships with homeowners who like to stay safe.